Having a Universal with Bluetooth Stereo and Remote Control is excellent - but previously I was stuck with Windows Media Player, which as a music player, should really be taken out and shot.
I emailed both the creators of Pocket Music and Pocket Player, two excellent music players, but without A2DP and AVCRP support.
The Pocket Player people just got back to me, and supplied a DLL file which gives their player full bluetooth stereo support.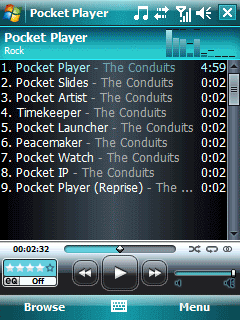 I'm happy to report that it works a treat, so fill yer boots!
Get it here!