--NOTE:This is my first post for mobile devices EVER! So, if it's crappy... slap my momma.--
Alrighty, I birthed this idea after the BMW dealership told me I would have to pay $2500 for a bluetooth/nav system and I told them to go f*** themselves...
I just wanted my Omnia to play music, use nav, and answer calls through the dang speaker system; but in the end I've accomplished alot more for alot less. If anyone reads this and wants pictures to see how I installed it feel free to post and I will take/upload some.
What I can do... Using the hardware (#1 Omnia i910) (#2 Sony VAIO P Series) and (#3 7'' Touchscreen) I can answer phone calls, play over 10,000 songs, use GPS Navigation, and surf the web visually through my touchscreen and audio through my car speakers. All for under $1,000.00
How I can do it... *See below list for add. info* Take any laptop with integrated GPS Receiver/Bluetooth *Or buy USB Add-Ons* and connect Display through USB (For Touchscreen), mount it to your dash/open space, use MyMobiler to make/receive calls or text through phone on touchscreen display that has microphone *and webcam for video calls*, and connect laptop either through 3.5mm jack or FM Transmitter. I use half of the screen for Windows Media Player and the other half for MyMobiler.
Display: Nanovision MIMO UM-740 7'' Touchscreen USB Powered/Connected Display: $100 E-Bay
-Connect to a laptop for 7'' touchscreen/microphone/webcam
-Text through this touchscreen, have your phone out of sight, and you cannot be ticketed!
*Basically I got tired of reaching for phone/squinting to find music now I can use Windows Media*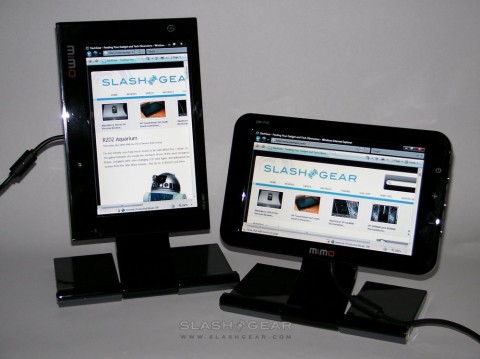 Phone: Omnia i910 Verizon Wireless: $50
-WoZZeR ROM *He's a Genius*, works like a champ.
-IntShrUI *To have internet without paying for tethering.
Laptop: Sony VAIO P Series: $600 off of Amazon
-Windows Streets & Trips 2008 *GPS Navigation for free through laptop receiver*
-MyMobiler *I can answer calls/make calls/text through the 7'' touch screen display
-Car charger for laptop: $10 for extended Trips
*You can use any laptop, I just enjoy being able to lock mine in the glove box*
Edited by Zida, 17 February 2010 - 06:00 AM.