So everything from my
Black vs. Blue
rom is on this rom (
Yes even Titanium
), except I added the Main Menu and Today Homescreen.
If you are coming from my other rom, please still read the Special Notes and Current Issues.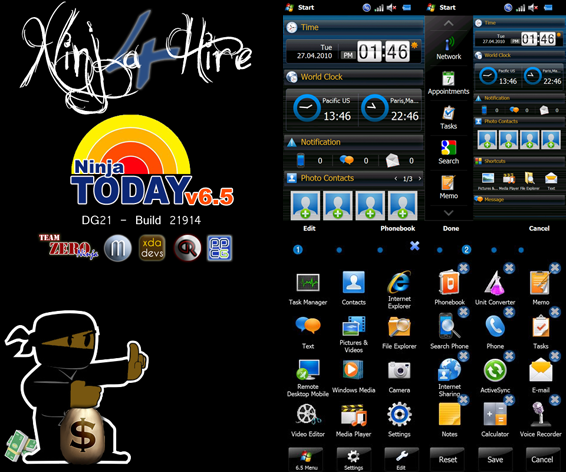 I made a few clock options. You will need to turn off Samsung Today, copy the "DefaultPlugInsRC.dll" into your \windows folder, then turn back on Samsung Today.

1
clock1.png 11.86KB 105 downloads2
clock2.png 11.73KB 68 downloads
3
clock3.png 13.02KB 66 downloads


Special Notes
Please update your phone with the latest Samsung DG21 update before flashing this rom.
After you flash and XDA_UC has installed fully, I would probably soft reset the phone for good measure. This will make sure all installed programs are fully installed.
To use XDA_UC
Before you flash my rom, make a folder on your "Storage Card" called XDA_UC. Make a folder in that folder called SD. Whatever you want installed to main memory will go in XDA_UC folder. If you want to choose the install location, use the SD folder. Should be working 100%, but let me know if you have any issues.
Today and Main Menu
The Main Menu is on by default and also linked to the cube button. If you turn off "Touchwiz" it will return to the Windows start menu.
The Today homescreen's built in Google search widget will work, but you need to install Opera 10 to your
\My Storage
folder.
Current Issues:
*The Today home screen is a little touchy at times. Also the "Settings" do no always light up or work.
* jInbox is currently cooked (but not default). I only cooked it in so the sms icon works for Today.
Please let me know if you have any issues or if you want something in/out of the rom
Version 6.5m
After a soft rest
Storage: 223mb
Program: Around 89mbWhats New?
UPDATE

v6.5m
Updated to DG21
UPDATE

v6.0m
Build is 21914
Doomsday Edition
UPDATE

v5.0m
Build is 21909
Added jInbox so the SMS icon works for Samsung Today
Removed "Fully Charged" pop up message that does not go away
Added Office 2010
Changed a few start menu icons.
Removed "Search Phone" and replaced it with "Samsung Smart Search". (was always on the phone, but never made it to the start menu)
Added DB_TPlayer
Updated Touch Player with i8000 version
Added AMD's SecDialer favorites fix
Updated SDK to v2.2
UPDATE

v4.0m
Build is 21907
Fixed broken pictures icon on today screen
UPDATE

v3.0m
Build is 21905
NinjaBlue Theme now has white text when highlighted making it easier to read
Added Office 2010
Removed "Search Phone" and replaced it with "Samsung Smart Search".
(was always on the phone, but never made it to the start menu)
UPDATE

v2.3m
Build is 21903
Changed a few start menu icons.
removed back-end mortscript for proper titanium fix (AMD again with the save)
Added FMRadio startmenu link back in (don't know how it got removed)
UPDATE

v2.1m
Build is 21901
PDA is now DC23 - 21889
Changed Toolbar & Large Indicator icons to more realistic
Added Sparta Startap - actually been installed for a while
v2.1 reason - forgot to add RSS reader
Removed

(what I can remember)


All Verizon bloatware
Samsung MainMenu (original), Cube, Task Switcher, File Manager, Touchwiz homescreens
Solitaire and Bubble game
Opera
Bing, Live Search
Facebook
Removed all SPlugins files so now it uses Titanium_480x800.cpr
Various small things that don't affect use.
Samsung Ringtones
Transcriber input

Added
PHM RegEdit
OpenGLESv1
Slide2Shutdown
Advanced Config 3.3
WakeUPOnSMS
XDA_UC
NinjaBlue Theme
Orientation Detection v1
Samsung SDK 2.0 (finally)
Samsung Omnia pro Today Home Screen

Changed
Updated "Microsoft Myphone" to latest version
Updated .Net to CF3.5
Changed Page Pool size to 24mb
Made Windows settings visible in start menu.
Changed Touch Calendar to I8000 JC1 Touch Calendar
Replaced slow Omnia 2 Main Menu with T*OMNIA2 Main Menu
Please see my other
roms at XDA
Download
Latest Rom

Ninja4hire_Today_DG21_21914_v6.5m.7z - <4shared>



Acrhive
Ninja4hire_Today_DC23_21914_v6.0m.7z - <4shared>

Hot Fixes and Useful Stuff
If you want to change the background or any icons, you will need to know how to edit .dll files. This link should show you how. http://www.modaco.co...o...t&p=1174261

For Background Edit: TodayContainerRC.dll
For Icons Edit: DefaultPlugInsRC.dll
NinjaToday.cab
1.58MB
298 downloads
(A cab of my customized Today Homescreen)
Opera_10_Browser_Shortcut.zip
193bytes
131 downloads
(Fixes Today homescreen's Google Search - Copy to \windows folder and install Opera10 to \My Storage)
DefaultPlugInsRC_clock1.zip
461.24KB
220 downloads
DefaultPlugInsRC_clock2.zip
461.09KB
149 downloads
DefaultPlugInsRC_clock3.zip
465.17KB
151 downloads
---------------
Like it? A simple "Thanks" will do, but feel free to buy me a shuriken if you must.

Edited by Ninja4Hire, 21 September 2010 - 10:29 PM.