Ok this is my new rom. There is more to it, but I wanted to get the base out so I can work on the ThrottleLaunch theme
(which I will cab instead of cooking in)
. I will also have a few of the custom features in this rom cabbed for other users on other roms.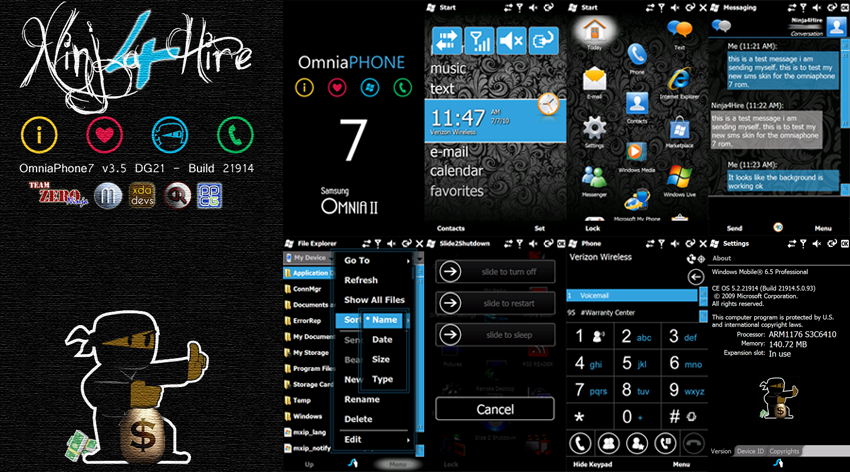 Special Notes
Please update your phone with the latest Samsung DG21 update before flashing this rom.
After you flash and XDA_UC has installed fully, I would probably soft reset the phone for good measure. This will make sure all installed programs are fully installed.

To use XDA_UC
Before you flash my rom, make a folder on your "Storage Card" called XDA_UC. Make a folder in that folder called SD. Whatever you want installed to main memory will go in XDA_UC folder. If you want to choose the install location, use the SD folder. Should be working 100%, but let me know if you have any issues.
Current Issues:
* The threaded SMS messaging may bleed over the chat bubble on new messages and if you go landscape. not a big issue, but just wanted to let you know.
Please let me know if you have any issues or if you want something in/out of the rom
Version 3.5m
After a soft rest
Storage: 223mb
Program: Around 89mbWhats New?

Update

v3.5m


Updated to DG21

Update

v3.0m


Build is now 21914
That's pretty much it...

Update

v2.5m


Build is now 21908
Sec Dialer favorites is now fixed.
Updated to Samsung SDK 2.2
Added DB_TPlayer
Updated Touch Player with i8000 version

Update

v2.0m


Build is now 21907
Skinned (basic) Samsung calculator
Re-skinned Slide2Shutdown.
Added Custom shutdown screen
Cleaned up light blue Titanium panel highlight.


Removed

(what I can remember)


All Verizon bloatware
Samsung MainMenu, Cube, Task Switcher, File Manager, Touchwiz homescreens
Opera
Bing, Live Search
Facebook
Removed all SPlugins files so now it uses Titanium_480x800.cpr
Various small things that don't affect use.
Samsung Ringtones
BlackTheme

Added
PHM RegEdit
OpenGLESv1
Slide2Shutdown
Advanced Config 3.3
WakeUPOnSMS
XDA_UC
Orientation Detection v1
SDK 2.2
Custom icons for start menu
Custom OP7 Theme, SECDialer, SMS skin

Changed
Updated "Microsoft Myphone" to latest version
Updated .Net to CF3.5
Updated Office to 2010
Changed Page Pool size to 24mb
Made Windows settings visible in start menu.
Updated Swype to v3.9 with vibration.

lol not on this one ladies



Please see my other
roms at XDA
Download

Latest
Ninja4hire_OP7_DG21_21914_v3.5m.7z <
4shared
>
Archive
Ninja4hire_OP7_DC23_21914_v3.0m.7z <
4shared
>
---------------
Like it? A simple "Thanks" will do, but feel free to buy me a shuriken if you must.

Edited by Ninja4Hire, 24 September 2010 - 08:59 PM.