Daskalos Sense 2.5.2016 ROM

Credits to: ajeshm for the Sense 2.5.2016 CAB
Video Preview (Sorry for the video quality):
Note: Sense in the ROM will not look like the pictures below after flashing this ROM, though you can customize it (see tips below)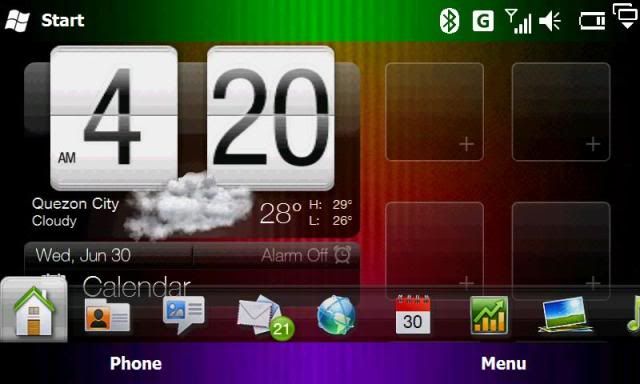 READ




ABOUT

- Ported in a Megalite ROM
- WM 6.5 build 21907/ JC2 Base

About the Ported Sense 2.5.2016

It's based on ajeshm Sense cab. Many might ask if Sense in this ROM is as smooth fast as in HTC devices, well, it's not. Until we can get the proper drivers, we can't have that performance.
But I can assure that the Sense is fast, smooth and stable enough for daily use. The files are CFC modified so images may load faster. This Sense will also support CFC modified Themes. Some .dll and .exe are also modified to have stable RAM usage. Also applied some known Sense tweaks to optimize performance.
Although working HTC Messaging, HTC Dial Pad,HTC Comm Manager, New Slide Lock and Sense Mods can be cooked in the ROM, I choose not to, because cooking them in will replace too much files and registry entries not only in the Sense Package but also in the WM OS, which may lead to some programs not working. You can get the cabs as along as I finished uploading it.

See tips on how to enhance the performance of Sense (still writing it) and see issues and bugs list and possible fixes for them (still writing it)


What's in the ROM:

- Working My Location
- Working HTC Messaging (though you must install the cab)
- Audio Player continues playing music even when device screen is off
- Working landscape ( please see below on special instructions how to use LANDSCAPE)
- CFC compressed

Added apps:

Easy Set S3Clock
OMarket
Opera 10
OzIM
Gyrator
X2 Task Manager
Total Commander
PHM Registry Editor
Omnia 2 Messaging Switcher
Clean RAM
Capsure
Advance Config
Background Wizard
JWMD Icon Changer

How To

1. Please read all there is in this post.
2. Download and Flash.
2. Install Sense addons ( you can install the whole set or install the ones you need see info below)
3. Install your needed samsung apps (I haven't updated (and haven't uploaded) it yet though working camera cab, fm radio cab and samsung setting is in the Experiment 32 thread)


DOWNLOAD ROM HERE:
http://www.megaupload.com/?d=HH1EKM45


-----------------------------------------------------------------------------------------------------------------------------




ALL YOU NEED TO KNOW





HOW TO USE THE LANDSCAPE MODE:

Almost all tabs and Sense functions are usable in Landscape. But there's a glitch. Sometimes, when putting Sense in landscape, it becomes squashed.
To avoid this, do not slide keyboard when a Sense animation is currently executing (Weather icon/wallpaper animating, pictures flipping, menu scrolling etc.).
Just wait for the animation to finish and then slide the keyboard.

If Sense be squashed, just choose a tab without a current animation sequence, and slide in the keyboard.

---------------------------------------------------------------------------------------------------------------------------------



TIPS TO IMPROVE SENSE PERFORMANCE

These are some tips to improve Sense performance:

1. Weather service very much affects Sense performance. After flashing the device (let's say you haven't updated your weather tab or activate My Location), Sense is fast, but when updated, there is a noticeable decrease in performance. But you have some options if you don't want to sacrifice the performance:

- Disable Home Tab Weather Animation
- Disable Weather Tab

2. You can use Set Easy S3Clock (included) and overclock your processor for some boost. Sense is stable at 900Mhz (actually it is stable until 920Mhz, you can adjust 920Mhz through editing S3Clock registry).

3. Use Advance Config Tool (included). Set Performance tweaks to advised or higher.


--------------------------------------------------------------------------------------------------------------

HTC Messaging, Comm Manager, Phone Pad,Vertical Lock Screen, Facebook Tab, Documents Tab

HTC Messaging 1.5

Please note that if you install HTC Messaging, the default WM Messaging in the ROM will be gone. Messaging will be replace with the HTC version both in the Sense Home Tab and as a stand alone messaging application. This can be used without installing HTC Comm Manager. Tested with receiving and sending SMS. If you know how to manually configure your MMS please test this also.

Installation: Just install and allow soft reset.
Bug: When you use the home tab to reply or make new message, the send button is somewhat gone. The send button is actually there, it's above the attached button (with the clip icon) though not visible... just tap the space above the attach button to send message

Working HTC MMS

Two users confirmed that HTC MMS is working, but you have to know how to configure your mms settings manually.
After successfully installing HTC Messaging, you can configure your mms by:

Go to Programs , then tap "Text"
HTC Messaging will open, tap Menu then Settings, then Options,
Settings will open, tap Menu, then MMS Server
Tap New to manually configure your mms settings (given that you know the settings)



HTC Comm Manager

You may or may not install this. Install this if you want more HTC feel on your device.
Installation: Just install and allow soft reset

HTC Phone KeyPad

Install to have an HTC skinned phone keypad. Installing this also gives the new incoming/outgoing call screen. Fully compatible with Sense.

Installation: Just install and allow soft reset
Issue: Video Call not Possible

Vertical Lock

Vertical Slide lock ( like HD min) from xda member Cloudy. Warning: Do not enable password phone lock security while using this lockscreen.

Installation: Just install and allow soft reset
Issue: Portrait Only

Facebook Tab

Facebook Tab for Sense

Installation: Disable Sense,install and allow soft reset

Documents Tab

It's enabled in Sense but you need Adobe Reader to read your pdf's.

Installation: Just install Adobe LE cab and allow soft reset


Download all Sense Addons here:
http://www.megaupload.com/?d=BN9I9F5Y

--------------------------------------------------------------------------------------------------------------------------------



About Applications Included in the ROM



I cook the most of the following applications in the ROM to help you tweaking and modding your Sense ROM:

Easy Set S3Clock
- Helps in boosting performance by overclocking your processor

OMarket
- Lets you download free applications for your phone

Opera 10
- Latest Opera version

OzIM
- Multi Online Messenger (AIM,Google Talk,IM,MySpace Im,YM)

Gyrator
-Allows automatic screen orientation with other features (like shake to reject a call etc.)

X2 Task Manager
- X2 Task Manager. To minimize apps, just tap x-button; to close, tap and hold x

Total Commander
- File explorer with some advance features

PHM Registry Editor
- Registry Editor

Omnia 2 Messaging Switcher

Clean RAM
-Automatic RAM reclaiming tool

Capsure
- Lets you take some screenshots

Advance Config
- Easy set System Tweaks

Background Wizard
-Sets Sense Home Tab background and makes top and bottom bar transparent (please use 480x800)

[b]JWMD Icon Changer
- Changes your application's icons
Edited by daskalos, 06 July 2010 - 06:19 AM.