Daskalos Sense 2.5.2016 WM 6.5.3 ROM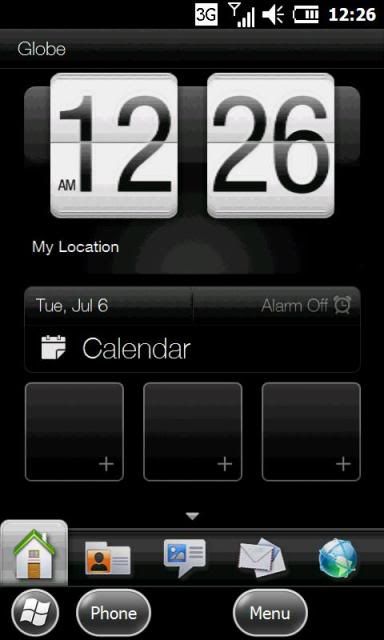 ABOUT
- Ported in a Megalite ROM
- WM 6.5.3 build 21664/ JC2 Base

About the Ported Sense 2.5.2016
It's based on
ajeshm
Sense cab. Many might ask if Sense in this ROM is as smooth fast as in HTC devices, well, it's not. Until we can get the proper drivers, we can't have that performance.
But I can assure that the Sense is fast, smooth and stable enough for daily use. The files are CFC modified so images may load faster. This Sense will also support CFC modified Themes. Some .dll and .exe are also modified to have stable RAM usage. Also applied some known Sense tweaks to optimize performance.
Although working HTC Messaging, HTC Dial Pad,HTC Comm Manager, New Slide Lock and Sense Mods can be cooked in the ROM, I choose not to, because cooking them in will replace too much files and registry entries not only in the Sense Package but also in the WM OS, which may lead to some programs not working. You can get the cabs as along as I finished uploading it.
See tips on how to enhance the performance of Sense and see issues and bugs list and possible fixes for them (post 2)
What's in the ROM
:
- Working My Location
- Working HTC Messaging (though you must install the cab)
- Audio Player continues playing music even when device screen is off
- Working landscape (
please see below on special instructions how to use LANDSCAPE
)
- CFC compressed
Added apps:
Easy Set S3Clock
OMarket
Opera 10
OzIM
Gyrator
Total Commander
PHM Registry Editor
Omnia 2 Messaging Switcher
Clean RAM
Capsure
Advance Config
Background Wizard
JWMD Icon Changer
How To
1. Please read all there is in this post.
2. Download and Flash.
2. Install Sense addons ( you can install the whole set or install the ones you need see info below)
3. Install your needed samsung apps
DOWNLOAD ROM HERE:
http://www.megaupload.com/?d=9KCD8LW2

DOWNLOAD SENSE ADD-ON HERE:
http://www.megaupload.com/?d=BN9I9F5Y

DOWNLOAD SAMSUNG APPS BATCH 1 HERE:
http://www.megaupload.com/?d=7JTDTEMG
-------------------------------------------------------------------------------------------------------------------------------------
A BIG THANK YOU FOR ALL THOSE WHO SUPPORTED MY WORK ESPECIALLY FOR THE FOLLOWING PEOPLE FOR THEIR DONATIONS:

MR & MS:

J. Barrick
A. Maśląg
V. Zubov
M. Gudat
D. Socha
A. Pajak
E. Siow
C. Spoelstra
G. K. anonymous
ANILPHV
A. Puvvada
cappuccina
N. Hefner
S. Rattan
J. Mulder
suman_pal78
Edited by daskalos, 07 July 2010 - 05:31 PM.