Daskalos B7610 Sense 2.5.2019194.0 ROM
Special thanks to

ajeshm

for Sense fixes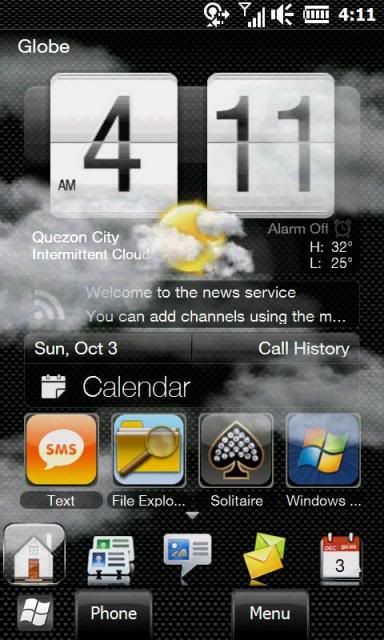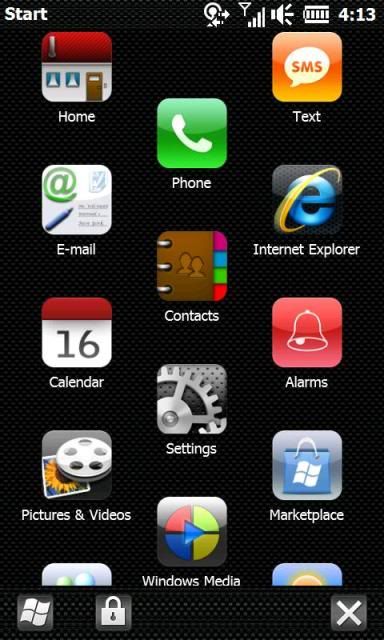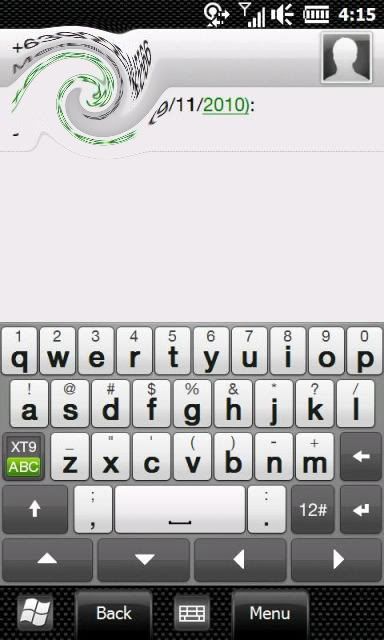 What's new? in v7
- JE2 WM 6.5.3 Build 21680
- In

MEGALITE


- New Sense Build 2.5.2019194.0
- New program Icons
- Added some HTC apps and dependencies to complement Sense
- New version HTC Messaging
- Fix version HTC Phone Canvas
- added some drivers that will help (supposedly and hopefully) boost Sense performance (See Below)
- HTC Ez Input with XT9
- Supports Contacts Facebook links and updates (see below how it works)
- Added additonal 3rd party apps (See Below)
-
17 Tabs Available
Home, Message, Email, Calendar, People, Internet, Photos and Videos, Music, Weather, Documents, Programs, ManilaTV, Stocks, Twitter, Facebook
(see below for special instructions)
NEW VERSION Download Link available @ TWITTER

NEW 6.5 version available @ twitter too
Notes on 6.5 version:
1. Please don't install the HTC phone canvass cab included, it's only compatible with the 6.5.3 version
2. The "old" Samsung Touch Player is not compatible with both Sense ROMs. Please download the updated Touch Player cab (see below on "How To")
[quote]
Third Party Apps

These apps are added to help customize Sense and Improve performance:

1. Easy Set S3Clock

Overclock tool for maximum performance

2. Capsure

Screen Capture Tool

3. CleanRAM

Automatic RAM reclaiming

4. Gyrator

Auto orientation tool

5. JWMD Armids by NullString

Change the number of columns in Menu (Honeycomb)



Support Developer

http://forum.xda-dev...ad.php?t=793737

6. JWMD Icon Changer by NullString

Icon changer tool



Support Developer

http://forum.xda-dev...ad.php?t=567080

7. Omarket

Download free apps online

8. PIM Backup

Backup/Restore PIM

10. Background Wizard

Sets Sense Background, including top and bottom bars

11. TouchResponse

Enable vibration feedback (

see below on how to setup)



Added in v.7

12. Resco Photo Viewer Pro (shareware)

13. Resco File Explorer (shareware)

14. O2 Compass by Rapid81

Compass for B7610

Support Developer

http://www.modaco.co...ss-and-o2flash/

15. O2 Flash by Rapid81

Flashlight App

Support Developer

http://www.modaco.co...ss-and-o2flash/

16. Advanced Config Tool by Schaps

Easy set WM Tweaks

17. FixStartManila

Restores all available Sense Tabs (See Below)

18. ArkSwitch

Nice Task Manager for 6.5.x

Support Developer

http://arkswitch.codeplex.com/

19.

Cabs included:
Opera 9.7
HTC Phone Canvas

18. HTC Apps

a. HD2 MP3 Trimmer
b. Ozim
c. HD2 Voice Recorder
d. HD2 YouTube

(read below)


e. EZ Input with XT9
f. RSS Hub
g. Streaming Media
h. HTC Phone Canvas

(see below on how to install)


I. HTC Messaging 1.8

19. Enhancement Drivers

a. GFXBoost by Chainfire



Support developer

http://forum.xda-dev...ad.php?t=509704

b. Turbo3D by Chainfire



Support Developer

http://forum.xda-dev...d.php?p=5054894


[/quote]
HOW TO INSTALL:
1. Flash
2. Upon successful start up, there are 2 dll's that will ask permission to launch, tap yes (they are from ArkSwitch)
3. I suggest waiting for Sense to start completely, slide the slider left and right and check all tabs
What to do after installing
1. HTC Album is cooked in and it replaces the way media files are open.Unfortunately HTC Album is slow in opening some formats (like .png). To edit this use Resco Explorer (included) and set the preferred app to open your media file in default.
2. (Optional) Install Opera 9.7 (device only)
3. (Optional) I suggest installing phone canvas (see below)
TIPS TO IMPROVE SENSE PERFORMANCE:
1. In Turbo3D, set frametime to 19 or up
2. As usual, disable Weather Animation
3. Overclock to 900Mhz (stable)
4. The 1Ghz tweak (see below)
5. Perfomance Tweaks in Advanced Config Tool (note that don't configure file system cache size and file system cache too high, for some reasons, it will delay phone wake up)
-------------------------------------------------------------------------------------------------------------------
HOW TO'S


HOW TO ENABLE MISSING TABS IN SENSE
For some reasons, no matter how I edit the
2693384_manila
file to set all tabs to appear in Sense, two or more tabs disappear and can't be enabled. Luckily there is a workaround for this:
1. Disable Sense in Today
2. Go to Programs Menu and tap FixStartManila
3. Tap FixStartManila again and you will see the wait icon, wait for the menu to "shift"
4. Then go to Today and set Sense
5. When Sense succesfully launch, check if the missing tabs are present
6. If some tabs are still missing, go to Sense Settings tab and enable the missing tab\s
7. Don't power off of soft reset device in about 5-10mins. so that Tabs will remain after a reboot
HOW TO ENABLE MY LOCATION WEATHER
Go to Weather Tab, tap Menu and choose Enable My Location
HOW TO ENABLE 24HOUR FORMAT
Tap Home Clock, Menu, 24HOUR FORMAT
HOW TO FIX INVISIBLE FONTS
Change Theme.
HOW TO FIX INTERNET TAB
(OperaL.exe missing)
There are two ways.
1. Install a working Opera 9.5 to 9.7 version on device
2. Make IE your default browser
HOW TO OPEN MEDIA FILES
There two solutions:
1. You need Updated Samsung Touch Player, download here
http://www.modaco.co...o...t&p=1435215
Because this is in megalite, Samsung apps are removed, including this player that is good in playing different formats. Just install it back or install other capable players like TCPMP, CorePlayer, Pocket Player, Smart Movie etc.
2. The default app that opens media files
[quote]1. HTC Album is cooked in and it replaces the way media files are open.Unfortunately HTC Album is slow in opening some formats (like .png). To edit this use Resco Explorer (included) and set the preferred app to open your media file in default.[/quote]
If HTC Album messes up the way that media files are open, you can do this:
1. Install your preferred media player or for example you want WMP open *.avi files
2. Open Resco Explorer, look for the *.avi file, tap and hold, tap open, select "open with"
3. Select the preferred app that you want to use every time a *.avi file is open (for example choose WMPlayer). Then tap "Always use this program to open this file type". The tap Done
By doing this, every time you open a *.avi, it will be opened by your preferred player.
You can do this to other files as well
HOW TO SET TOUCHRESPONSE
To enable vibration feedback on EZ Input keyboard, Go to Settings/System/TouchResponse . Set Device ID to 11 and manage other settings to your liking.
HOW TO MAKE OZIM TO WORK
Open OZIM, select your preffered messenger, Tap settings. In MSISDN, type your phone number in International format ex: +639000000000
HOW TO INSTALL HTC PHONE CANVAS
Why install HTC Phone Canvas? Some Sense features does not work if HTC Canvas is not installed. Why not cooking it in the ROM? It gives weird issues when cooked. To install it:
1. Install dummy.cab to device (it is found in Sense.rar)
2. After Installing it will ask for reset. Tap ok
3. When device successfully start, open FDC Task Manager and close "cprog.exe"
4. Install Phone Canvas 2.cab...It will ask for a reset tap ok.
The downside is it will completely disable the WM 6.5.x lockscreen.
DON'T INSTALL
Included Cloudy Lockscreen.. For the meantime use S2U2 or GA Lock
Update: It seems my HTC Messaging 1.8 cab is conflicting with Cloudy lockscreen not the phone canvas. You can install both Phone canvas and Cloudy Lockscreen on device
HOW TO DO THE "1GHZ TWEAK"
At this setup you will havea blazing fast Sense,(see Sense video 7-10-10) though be informed of the cons below.
This is what me and the testers talking about when we mention "the Tweak"
- Set Performance to Normal (not High,Low or Auto)
- Run Easy Set S3Clock (if you don't know how to use S3Clock read here:http://www.modaco.com/content/b7610-omnia-pro-b7610-modaco-com/311584/easy-set-s3clock/) and set speed to 1Ghz (1Ghz?!?!...yup...actually you can set it 'til 1158Mhz)
Some of you might say "I thought S3Clock will only work when performance is set to Auto or High?" and "It will freeze device when set to 950Mhz to 1Ghz"...
So what is in this ROM, that will let you go up to 1Ghz speed?
Hmmm, maybe there's something special in this ROM
Pros: The fastest sense you can imagine, it isn't that battery consuming...
Cons:
I call Level 3 set up as the "Fake OC" .Strangely, not all apps will recognize (and run) at the 1Ghz speed. For example, even though Sense will be fast, benchmarking tools, like the one in SK Tools, will just measure a speed as of only about 600Mhz. Yup weird.
Some apps, like Samsung Camera, will crash and if you connect device to anything that will make battery charge (like obviously, the charger or connecting it to your PC) and try to turn off device by using the power button (long press end key) the device will freeze.
Verdict: Unless you charge it, turn it off and launch the camera while you are in this setup, it is Stable. A work around will be instead of using 1Ghz+, you can choose 900Mhz to 950Mhz (most apps, including the camera, will still work and not crash at these speeds).
[quote]
Bugs You Must Know...
- Sometimes HTC Notification Manager not working, then suddenly it will work. Must be conflict with 6.5.3 taskbar manager
-nDon't tap and hold quick links in home tab, it will freeze Sense/device, if you know a possible solution, please share it here
Edited by daskalos, 13 October 2010 - 08:43 AM.