PRESENTATION
Courtesy of raverrr, I decided to update the Fish'n'chips. Thanks
Fish'N'Chips
.
-Interface style Jelly Bean
-File Manager
Mi File Explorer
(version Dark Blue)
-Clock
Miui DeskClock
(mod blue)
-CM7 messaging app
-CM7 3D gallery
-DSP manager
-Calculatrice TouchWiz
-Notification power widget (thanks to lidroid, KonstaT and tillaz)
-Circle battery mod
-Overscroll glow
-ICS window animations, CRT Off Animation
-Overclockable Kernel
-Unsecured boot.img
-etc/init.d support
-Superuser and su binary
-VPN/SAMBA share modules added
-Stagefright enabled
-GPU rendered UI
-TCP buffer sizes optimized
-Rooted
-Busybox support
-A2SD
-All useless stuff removed
-Deodexed
-Bash
-huge APN list (from CM)
-new Adreno libs to increase 3D performance
-Widgets grouped
-Init.d Tweaks :
-ram cleanup at boot
-zipallign at boot
-sleep tweak
-net speed tweak
-touchscreen sensitivity tweak
-Host AdAway
-OTA Updater support
PREVIEW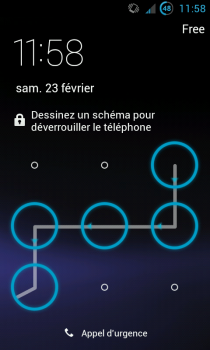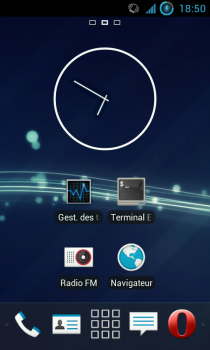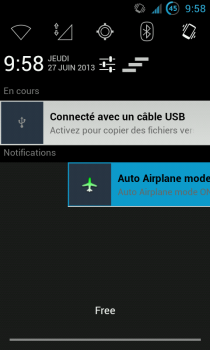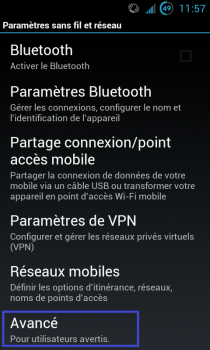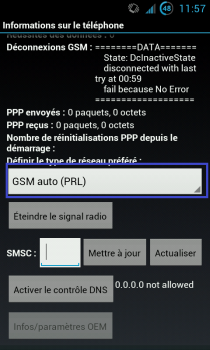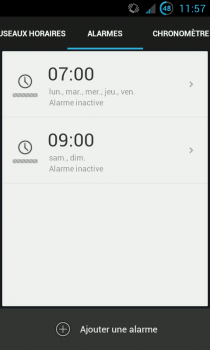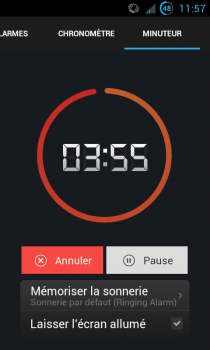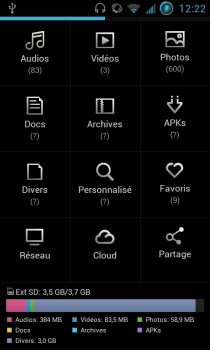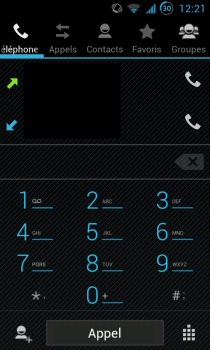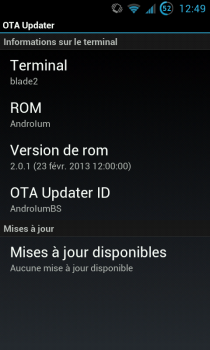 REQUIRED
(

P736V

) ZTE Blade S / Crescent / San Francisco II
Recovery CWM
INSTRUCTIONS
* Put it on your SD card
* Boot into recovery
*
Backup
your current ROM
* Wipe data/ factory reset
* Wipe cache partition
* Wipe dalvik cache (advanved options)
* Install zip from sd card
* Choose zip from sd card
DOWNLOADMD5
: B7D47C9E85492B7A8770D212EB7B1D3B
Release Date
: 03 juillet 2013
Version
: Android 2.3.5_2.5-AndroIumBS2
Download
FLASHABLE ZIPS
:
Thanks
-Team Fish'N'Chips
-JeT pour la modif des settings menu
-OuahOuah pour la proposition de l'OTA Updater
-Aux beta-testeurs,
CHANGELOG
Version 2.5
:
- New kernel ZTE (june 2013)
- New librairie wifi by ZTE (wpa_supplicant, system/bin)
- Somes icons Sense 5, mod Nemus launcher, new wallpaper default
- New bootscreen
- All updates OTA a 2.0.2 (changes notification tray...)
- All updates apps
- Update host file (no pub)
Version 2.0.2
:
-Fix Clock/Alarm
Version 2.0.1
:
-Init.d Tweaks (comme FNC 8):
-ram cleanup at boot
-zipallign at boot
-sleep tweak
-net speed tweak
-touchscreen sensitivity tweak
-Nouveau raccourci "Avancé" (dans les paramètres réseaux) permettant de modifier le type de réseau (GSM Only -> 2G, GSM Auto (PRL) -> 2G/3G)
-Ajout DSP Manager
-Nouvelle Calculatrice TouchWiz (Samsung)
-Suppression du widget de présentation d'Android "protips.apk"
-Remplacement de l'Horloge par celle de MIUI + modification du thème par mes soins
-Clavier qui n'impose plus la correction
-Correction du petit bug d'affichage dans la zone de notification lors d'un téléchargement
-Finitions sur l'interface : Bootscreen, icônes, fonts, fond de menu, clavier, actualités, Radio FM...
-CRT Off Animation
-
OTA Updater

Version 1.0
(base FNC 5.1) :
Nouvelle interface (bootscreen, icônes, interface de certaines apps, son batterie faible...)
Suppression SMS Pop-Up, Talk, YouTube (ré-installables)
Suppression du Tweak GPS
Remplacement de l'explorateur par Mi File Explorer (version Dark Blue)
Remplacement de l'Apps SMS Stock par celui de Cyanogen7 (comme sur FNC6+)
Toutes les Apps sont à jour
Ajout d'une application Lampe de poche (lite et basic!)
Host d'AdAway (mais le gestionnaire AdAway n'est pas présent!)
----------------------------
Sorry for my english !!
Edited by Dalmi, 03 July 2013 - 11:33 AM.