just had my
BlueTrek S2
delivered this morning (the update to the S2) which i brought from
here
and looks like: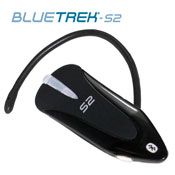 So far i'm really impressed for the price - seems to cling on the side of my head OK, call quality and voice tag dialing seem quite groovy so far... - I have been using with my SPV C500 and everything seems 100% compatible..
I've also tried it with the
BlueTunes
software which works great - have been listening to podcasts using WMP10....
I would recommend it....