MAX TF3D THEME MAKER APP v3.1



I have now put all my focus on the app. All the themes that you see below are now part of the app and more. You can easily change the themes wt a press of button. Check out the above link.



-----------------------

PLEASE READ INSTRUCTION HERE BEFORE INSTALLING
TAKE NOTE THIS THEME IS NOT COMPATIBLE WITH DUTTY ROM 1.8 ( using the new TF3D engine )
Here it is.....the complete customizable TF3D package for your Touch HD. This theme has a fully functional analog, a working mini-flipclock, extended appointments, all 15 tabs and wallpaper can be updated with a press of a button for all background. The bottom bar opacity has been fixed. It is now 100% solid and I have done the same for the top bar as well.
New update: Operator Text is now fixed 100%. It should refresh realtime. However, I still retain the old main.cab which allows you to edit the text itself. Refer to my tutorial on how to do that.
I apologize for the earlier mistake that during the rush of releasing this, I've overlooked and messed up some files. My intention here is to enable a fully customizable TF3D theme for everybody. So, pls read carefully and follow each instruction to get to the theme that you desire.
FIRST STEP......RESET TO ORIGINAL THEME FIRST

If you do not do this, there's no guarantee that this theme will work properly.
Reseting To Original Theme Guide
Thks a million to Blessed HD. Here's the easy way to reset back to your default theme. Install Diamond TF3D Config program. You can find it in XDA. Go to the "Appearance" Tab and do a restore to default. It will automatically delete all the manila and related files.
PLS CHECK THAT YOUR ORIGINAL THEME WORKS FINE BEFORE GOING TO THE NEXT STEP!!Installation Guide

It is not easy to make everybody happy but the closest I can do is to allow you to choose what to install. I have now broken down the key components that you need to install step by step. Drop whatever you don't want and only select those that you need. Below is a list of files and their description.
To install these files, simply copy the cab to anywhere on your mobile and click on it. Soft reset afterwards.
Should you have any difficulty re-installing after multiple times, go to \windows\appmgr and delete the folder "Max Your Application Name".1. Max Complete TF3D - Main.cab

This is the main file which will give you the analog clock, extended appointments and changeable wallpaper. The number of tabs remain as the original 11 tabs. This will the basic of my theme. You will still need to download the analog clock package which I will make available. In future, I will also create different configuration theme so that when you are bored wt this, you can always change to another look.
Remember to go and download the analog clock package to complete the theme.
I have attached one analog clock package for you here. There's a selection of analog clocks on my modaco link.
NEXT, select a wallpaper to fill up the background.
Go to your SETTINGS tab and choose a wallpaper ( anyone that you like ).
There are already some default wallpapers that comes along with your phone.
That should complete the whole installation!!
Below are some pictures of how the theme configuration looks like. More theme configuration will come later.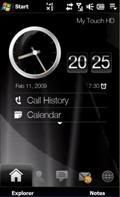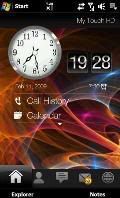 AGAIN, DO NOT GO TO THE NEXT STEP UNTIL THIS PORTION WORKS FINE FOR YOU!!!
NEW UPDATE : Operator text has been solved.....almost. It works but not refreshed realtime. So, if you are on roaming, just make sure you do a soft reset to update it. That's the best fix I can come up wt till now. Since some of you preferred to have your own text up there, I will leave the current main cab available. If you luv your operator so much, you can download the patch "Max Complete TF3D - Main Patch.cab" below.

----------------------------------------
2. Max Complete TF3D - 15Tabs.cab
THERE HAS BEEN REPORTS THAT THIS MAY NOT BE WORKING PROPERLY IN SOME PHONE CONFIGURATION. IF YOU ARE REALLY DYING FOR THIS, DO AT YOUR OWN RISK. SHOULD IT FAIL, RESTORE YOUR PHONE BACK TO ORIGINAL WITH THE ABOVE RESTORE METHOD.
This cab will extend your tabs to a total of 15. Even without installing the Main cab, you should get the additional 15 tabs minus all the goodies that you get with the main. Additional tabs added are as below.
a. Calendar
b. Sound Setting
c. Call History
d. Comms-Manager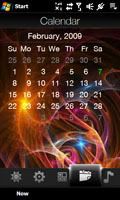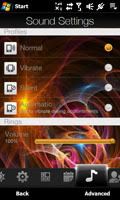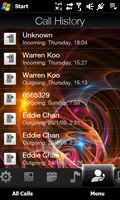 -----------------------------------------
3. Max Complete TF3D - Main Config 2.cab
If you are already bored with the original main theme, here's another one for you to play with. You can install this cab with or without the main.cab. Here's a pic of how it looks like.
-----------------------------------------
4. Max Complete TF3D - Main Config 3.cab
Another configuration with optimized space for a slightly larger analog clock. Clock position now swapped. Date placed on titlebar. All analog clocks on goodies section should work. You can install this cab with or without main.cab
Updated (20Feb) - Realigned dates and alarmclock position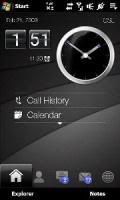 ------------------------------------------
5. Max Complete TF3D - Ultimate Theme

This theme is an enhancement of the main.cab theme. It has the same positioning as the main.cab but with an additional feature and one easter egg.
1. You can now edit your own text on the top left corner. Default "My Touch HD". To change the text, pls refer to my tutorial below.
2. Operator text works perfectly on your top right corner.
3. Analog clock will trigger your alarm settings.
Easter egg - Your analog clock can move by press+hold on it. However, I could not make it to stick after releasing. If anyone manage to find a way, pls let me know
. Only way to get it back on position is to relaunch your TF3D or soft reset.
The "Ultimate Theme - Basic" cab only changes the settings for those who wants to setup their own theme entirely. You will need to add your own analog clocks, etc.
However, to further enhance the theme, I have released another cab which I named "Ultimate Blue Theme.cab". In this cab, I've changed the bars and bubbles to blue and add a new transparent clock with blue tip and white on transparent flipclock. I did not touch the taskbar and tabs icons as this is very much a personal taste and it will be very difficult to please everyone. So, I would rather let you customize yourself.
In addition, I have selected some favourite blue wallpapers which will be installed on your \storage card\max wallpaper folder. By using the "Diamond Background Changer Installer", you can now automatically cycle your wallpapers over a periodic time through all your tabs. The installation process is as below.
1. Download and install "
Diamond Background Changer Installer
". ( could be anywhere on your phone )
2. Startup the Diamond program. Change the folder destination to : \storage card\max wallpapers\
3. You can also set periodic time here. Press "Schedule" to activate it once. Then exit.
4. Now install the "Ultimate Blue Theme.cab" on your device. (Cab can be uninstalled ). Soft reset.
5. After re-boot, your theme should look like below screen and your wallpaper will cycle through based on the periodic time that you set.
------------------------------------------
6. Max Complete TF3D - Analog Clock for Duttys ROM

This theme is specifically designed for Duttys Extreme ROM 1.8. Nothing special here except that you can now have an analog clock on the new TF3D.
There are 2 cabs here. The main one will disable wallpaper and only utilize the default background. The cab with background allows you to install wallpaper only for the home tab. Unfortunately for landscape mode, the wallpaper will not fit to that mode. So, it's up to you which cab you want to install. Below are some pics of the main cab installed.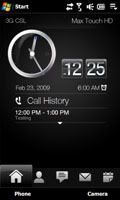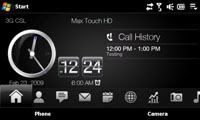 ------------------------------------------
7. Max Complete TF3D - Blue Theme (wt background) for Duttys ROM

Another theme for Duttys Extreme ROM 1.8. The background has been tweaked plus bars/bubbles been replaced with blue.
------------------------------------------
PROBLEM REPORTING
Should you come across any problems ( I suggest you chk thoroughly by following my instruction above first ) before you post them. If you did, pls consider sending a screen or more information or else it is very difficult for me to fix the problem if I don't see it myself.
GOODIES
On my second post, you can find packages, for eg analog clock, flipclock, icons and wallpaper which you may need to complete the theme or dress it up. Also, pls chk through some pages here as some kind folks had also shared some of their goodies for download which I will try to put up link later when I have the time.
Edited by maxycy, 15 April 2009 - 03:00 PM.