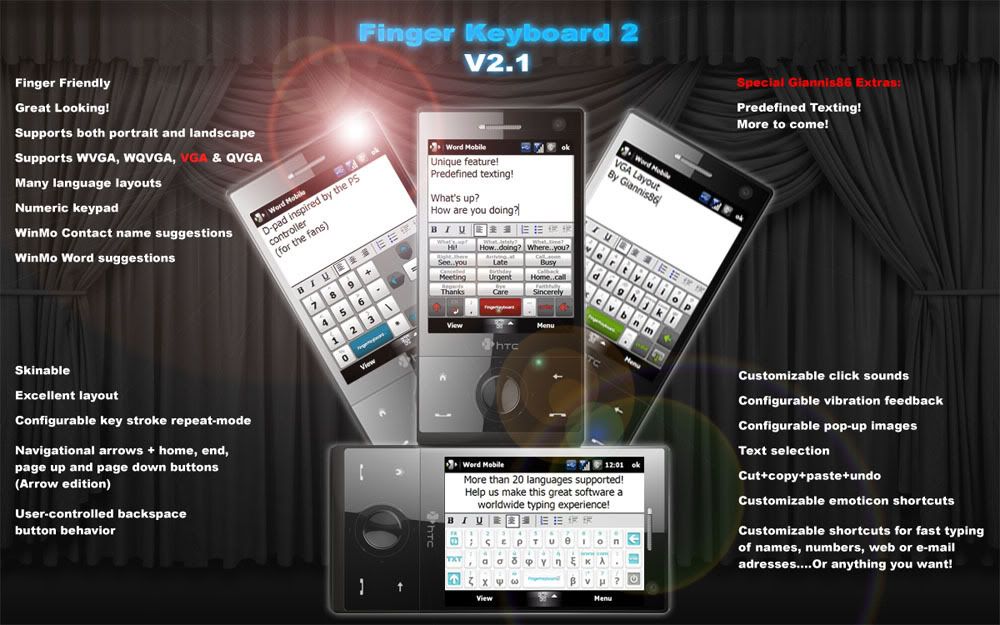 fter the great success of version 1, Rozenthal from xda-developers has released version 2.1 of FingerKeyboard2, a finger friendly pocket pc freeware keyboard.
INSTALLATION:
IF YOU HAVE OLDER VERSIONS OF FINGERKEYBOARD, PLEASE UNINSTALL THEM BEFORE INSTALLING V2.1! After removing old version, please restart the device and remove FingerKeyb folder before proceeding!
Run the attached .cab file (recommend you install to device memory).
The keyboard will install into /Program files/FingerKeyb. There is also a link to Configuration tool in the Start > Programs.
After installation, a Configuration utility will open. Here you can customize the layouts, choose color schemes and configure various options of FingerKeyboard2.
Click on OK and softreset the device.
Open up your standard keyboard (in SMS for example), click on the small arrow next to the middle keyboard icon and go to "Other input options".
FingerKeyb should be listed there, select it and you're good to go!
If you wish to set FingerKeyb as default keyboard, even after restart of your device, use SIP change application. Remember to set the time-delay to 40-50 seconds!
HOW TO UNINSTALL?
Go into Settings > System > Remove programs. It is listed as "Exidler's FingerKeyboard".
CREDITS:
Created and programmed by Exidler
Designed by Rozenthal
Main tester ChrisCross
The Developer wishes to thanks (in no special order): Berkut_G, utak3r, GoldCoin, Cerato, Schreda, Panosha, JBouRas, SBS, BadCluster, Taiseer999, Borchert, Hanackin, Iligcons, Allbercik, Ombre.px, Nvidia32, derfler, ilovepunani, elite-fusion, RoozbehDream, Giannis86, parasite81, bugsykoosh, Reefhunter49, Chompy18
Oficial thread:
Finger Keboard XDA
Sorry for the broken download link, download link is now updated[/b]
Edited by thierryyy, 10 April 2009 - 08:06 AM.