WARNING : PLEASE BEWARE THAT YOU MAY LOSE THE IMEI AND BRICK YOUR PHONE IF OPERATE IMPROPERLY.
AND PLEASE DO BACKUP CURRENT IMEI INFO BEFORE ANY ACTION."
edit : For those who flashed their firmware with
hacatae's
or
hedgepigdaniel's
. please keep a backup the channel1.nvm found in the program folder after a sucess run.
for those who bricked ur v880 due to upgrade failure. this guide might help.
some fellas in China already revived the phone by doing this.
Revive a bricked Phone
1. To check whether ur phone could use this method
This guide works only if the phone could run in the DFU mode in Windows: )
To do so, pls turn off the power and unplug the battery.
then press (and hold) both volume + and - buttons and connect ur phone to PC with an USB cable. (no need to put back the battery and pls install the ZTE driver package first)
if everything okay, u will hear the notification sound only that your phone should be remain in a plain black screen.
then u will see " ZTE Handset Diagnostic Interface (DFU) is connect with (COM XX)" inside Windows' device manager in control panel
If the phone cannot boot into DFU mode, then it is really bricked. U need a replacement.
2. If the phone is detected , continue to download this ZTE universal downloader toolset with several firmware packages.
http://hotfile.com/d...covery.zip.html
unzip the program to desktop then replace the .cfg file inside with this :
http://hotfile.com/d...etting.cfg.html
3. Double click to launch USDL_P726CV1.00.00.exe inside
4. login in as Administrator (press the "!" mark to change the ID). then Input the PW: ZTEsmt123
5. enter the main window then u need to setup the communication port number ( the port connected in DFU mode )
press ok and it brings you back the main window.
setup the com port in DFU mode (menu bar > option >port config)
After that, u will see the message that ur phone is running in download mode in Line 1.
If u see the word in red : "Fail". It means something wrong with ur phone motherboard. And u need to contact for replacement
6. then pickup the proper firmware u want to upload to the phone by browsing the path of "SW Directory" at the lower left hand corner
(u need to scroll down in the main window to see this thread)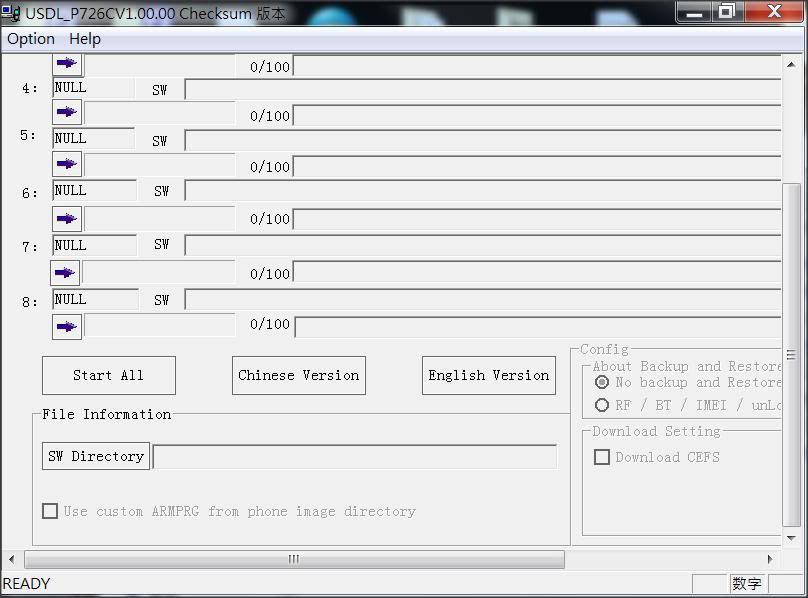 there are 3 firmware sets inside the zip u download.
A. GEN 1 Orange Sanfranciso with a partition layout of 136 mb system 15 cache and 289mb data
B. GEN 2 Orange Sanfranciso with a partition layout of 136 mb system 15 cache and 289mb data
C. Unicom Chinese retail version of blade(U X880) , running with 256 mb system ram.
Select pack B. then press start all and wait for it.
[edit@10 July 2011]: thanks for hedgepigdaniel's reminder, to save time, u may flash with a matching partition layout (about 160MB for system partition) to current CM7. with the custom firmware found in his thread(wbaw's V7) :
http://www.mediafire...fczy3y0el3zaw6s
, extract the file and then replace the firmware set with thoses files from the extracted content(firmware files are located inside the "files" folder).
(if u want to downgrade to gen 1, u better work it out with the Patch Version downloader (provided by
hacatae's
). Use this downloader to do so will struck yout phone with Airplane Mode. )
7. then setup the config like this :
when everything is ready, press start all to launch the program,
yr phone should be okay when it finish.
************************************************************************
Backup the Original IMEI
For those who wanna perform NV backup or restore should know that,
u can't make a nvm backup or restore unless FTM mode of stock recovery has been launch,
for this action need to be done with the FTM protocol instead of DFU mode.
so just flash back the
stock recovery
and boot it to FTM mode before running this official downloader.
select both
RF/BT/IMEI/ulock info
and
nv backup
option , u will get a proper working nvm for future use. )
*********************************************************************
Restoring AN IMEI
As mention, to get the NV option works , ur have to flash back the stock recovery and get your machne boot into FTM mode.
For person who messed up with their imei ,they can revive it by editing the nvm file and flash it back.
make a backup with ZTE downloader . edit the channel1.nvm with any hex editor
go to offset 0x1105 (Backup by Windows version downloader patch by Ramdir, used fpr wbaw's or hacatae custom firmware)or
0x1215 (Backup by the ZTE universal downloader)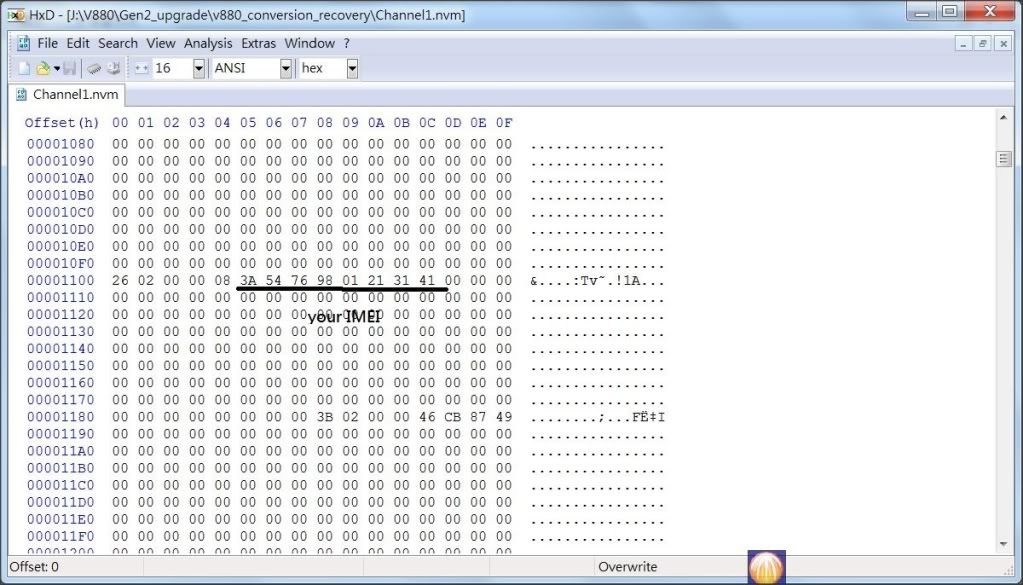 the current imei is store in dec format , an imei : 3 45 67 89 10 12 13 14
will be reordered as 3A 54 76 98 01 21 31 41
first digit settle in this way: (0)3>>3(0), and A=0
get ur self the orignial imei with the sticker on the back of ur phone
reorder it with the above proper format.
save the changes and then restore it with the official downloader
login as administrator, this time change the settings by
enabling the "NV RESTORE" and "RF /BT /IMEI" Option.
and u will have yr IMEI back.
**********************************************************
for those who lose their IMEI with a downgraded GEN1 machine and without a proper backup.
Here is a NVM file (Complete NV iems backup, I just made up a fake imei.):
http://hotfile.com/d...annel1.nvm.html
(GEN 1 nvm BACKUP)
IMEI address start from offset 1215, edit it with a hexeditor with proper order.
Restore steps are same as the Gen2 Machine .
Edited by burstlam, 10 July 2011 - 12:33 PM.